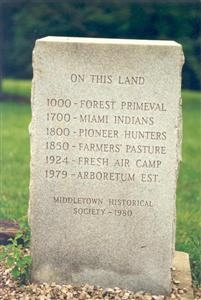 The Sanctuary contains the last free-flowing section of Bull's Run creek, which marked an original boundary of Middletown plotted in 1802. The area was used as a grazing pasture for bulls in the mid-1800's. Bull's Run Corporate, a non-profit corporation, now manages this city park. Visitors are likely to see squirrels, a variety of birds, perhaps a box turtle and an occasional deer. Spring provides many woodland wildflowers. In Autumn the display garden of Ohio Native Plants reaches its blooming peak. Eight bird-feeding stations are maintained during winter for easy bird viewing.
The front of the Sanctuary is an arboretum with labeled species of trees. Inside the Sanctuary is a picnic shelter and mulched trails leading you past birding areas, along the Bull's Run creek, and through a meadow area under restoration. The creek-side trail is approximately 1/3 mile.
Bull's Run Corporate is dedicated to developing and maintaining the Sanctuary as an educational and visual establishment for the benefit of the community.  We offer a variety of nature based education programs for all ages of students.  The Naturalist is available as a speaker for a nominal charge.  School field trips are offered free and supported by donations.  For more information, contact naturalist@bullsrun.org.  For directions to Bull's Run Arboretum and Nature Sanctuary, follow this link to Google Maps, or use the map below.
Our Mission Statement
Bull's Run Nature Sanctuary and Arboretum is a non-profit volunteer organization located in NE Butler County and serving the surrounding community. We are dedicated to preserving the natural area of Bull's Run and strive to develop the park as an environmental facility and educational resource for people of all ages.